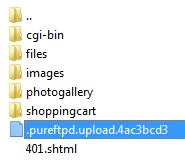 Periodically you may see a random pureftpd.upload file on your account followed by a series of numbers.
For example...
.pureftpd.upload.4ac3bcd3

This is simply a temporary file used when uploading anything via FTP and is normal to have on the server. When you upload something to the server, a lot of times the file is too large to keep stored in memory while it is being uploaded. In this case a temp file is placed where the file is being uploaded to & the FTP server periodically dumps the buffer to that temp file. Once the entire file has been uploaded & written to that temp file, the FTP server renames it to the actual filename.