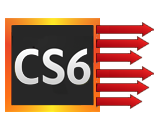 When Dreamweaver connects to a web server for the purpose of FTP it can do so by using MORE than one connection at a time. It does this to speed up file transfers (a bit like using all three lanes and three lorries to ship goods on a motorway, instead of just one lorry on one lane).
Dreamweaver CS6 has a setting in its FTP profile that allows minimal number of connections to be used. Just do not put a tick in the box that says Use FTP Performance Optimization. This limits the number of concurrent connections to 3.
This will reduce Dreamweaver's maximum allowed number of simultaneous file transfers, to prevent any further upload issues.