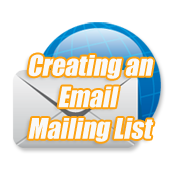 Login to the control panel.
Locate the icon "Mailing Lists" within the "Mail" section.
Locate the mailing list icon.
Enter the required information.
List Name - The name you would like for the list. Ex: Newsletter
Domain - The domain name you would like to assign to.
Password - The password for the list.
Password (confirm) - Confirm the password.
Enter in the required mailing list fields.
Click the "Create mailing list" button.
When the mailing list is created, it will appear down below where you may change the password, remove it, manage it, etc.