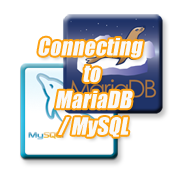 You will want to verify you are using the correct database name, username and password.

All databases and username will have your username appended to the beginning to prevent your information from being overwritten by other users using the same names. Because of this you will also want to keep database and usernames short as some applications have problems with longer names.

Keep passwords simple to alpha-numeric. Don't include dots and special characters as some apps have problems with this.

Make sure you have added the username to the database and the correct permissions were selected before adding. This is typically the "all" setting.

Hostname will always be "localhost" unless you are trying to connect to the database remotely using an application such as MySQL Navigator.

When connecting remotely MariaDB / MySQL is accessible via the standard port of 3306.